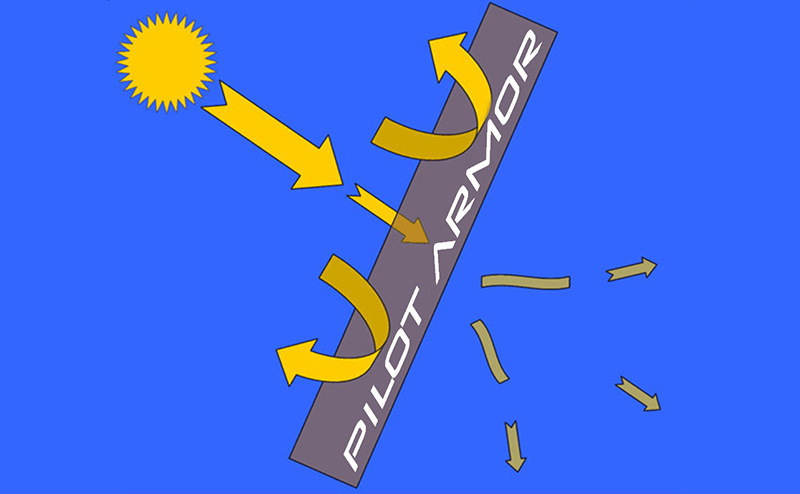 Buy Thermal Protection Systems from a Trusted Source
Your search for effective airplane UV protection and shades has come to an end thanks to the team at Aero-Shields Inc. When you buy thermal protection sunscreen systems from us, you are able to minimize the amount of UVA and thermal energy that passes through the glass of your aircraft and into the cockpit. This is an important measure in reducing the negative impact that the sun's energy can have when it hits your windows. Contact us to learn all about our UV and thermal sun protection systems.
Fabric Specific Information
Excellent Solar Protection—Eliminates up to 86% of the Sun's Rays
Ideal Compromise between Solar Protection & Light-Transparency
Provides Significant External Visibility
Fabric Is Manufactured under Tension during the Entire Production Process
Superb Dimensional Stability helps Maintain Fabric Shape without Bagging or Sagging
Pilot Armor is Tear & Dirt Resistant, & will Stand Up to Tough Conditions for Years
Medical Information
Airline pilots have a 30% higher risk for cataract problems and malignant melanoma skin cancer issues. What causes this? It is the exposure to "unfiltered" cosmic radiation (UVA), which is exponentially increased due to the higher altitudes flown. While aircraft windows do provide some protection from UVB, they don't protect against UVA. Aero-Shields Inc. advises everyone to wear good, quality sunglasses, apply suntan lotion with at least SPF 45, and install your Pilot Armor®. Pilot Armor® is simple to use and easy to remember. When the sun is out, put your Pilot Armor® screens up!
Why Choose Pilot Armor®
Economic Security System Due to Fabric Reflectivity
Can Be Left Installed While Parked out on the Ramp at the FBO
Fabric Reflects Direct Sunlight/UV Rays from Entering the Cockpit
Protects Upholstery, Glare-Shield, Radio, & Equipment Stacks—Which Is Important for Operators Using the Window-Mounted EFB./iPad System
Will Not Damage Acrylic Windscreens—Fabric Is a Screen, No "Super-Heated" Energy Is Trapped Between the Window & the Pilot Armor®, Which Will Make It Safe for Use on Delicate Acrylic Windows
It Is Not a "Bubble-Wrap" Style Sunshade, Which Has Been Found to Possibly Damage Expensive Acrylic-Type Windows